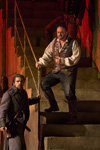 Il Trovatore
Em Metropolitan Opera
Preço desde € 103.90
Verdi's Il trovatore is back at the Metropolitan Opera House in New York! A brilliant cast including Maria Agresta, Anita Rachvelishvili and Yonghoon Lee takes on this dramatic love story in Sir David McVicar's production.

Highlights:
- Experience Verdi's dramatic masterpiece
- Hear, and see, world class singers in one of the world's foremost opera houses
- Get the best seats available withing your chosen category

What is Il Trovatore about?

Spain is torn by civil war and Count di Luna, the commander of the Royalist Aragon troops, is obsessed with the young noblewoman Leonora who does not return his feelings. She resides in the royal residence and the count's soldiers keep guard.
At night time, a mysterious troubadour has been heard serenading outside Leonoras window and the jealous count is determined to catch him. To keep his guards awake, captain Ferrando tells an awful story about a gypsy woman who was burnt at stake years ago for bewitching the count's infant brother.
Leonora confesses to her companion that she is in love with the troubadour. She hears him sing again and rushes out to meet him but is catched by di Luna.
The troubadour reveals his true identity which is Manrico, leader of the partisan rebel forces. The count is furious and challenges Manrico for a duel.
This is only the beginning of this dramatic story about love, life and war.

Sung in Italian with Met Titles in English, German, Italian, and Spanish

How do I receive my tickets?
Once you have completed your booking you will receive an email with your e-ticket. All you have to do is print it and bring it with you to the theatre on the dyay of the performance.
Informação sobre o local
Informação do show
Duração:
2 Hours, 51 Minutes
Localização

Take the subway to 66th St. Lincoln Center station

Mapa