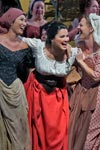 L'Elisir d'Amore
Em Metropolitan Opera
Preço desde € 105.70
Donizetti's comic opera L'Elisir d'Amore returns the Metropolitan Opera House. This time starring Pretty Yende and Matthew Polenzani in the leading roles.

Highlights:

- Enjoy Donizetti's beloved comic opera
- Experience world class singers in one of the world's foremost opera houses
- Get the best seats available within your chosen category

What is L'Elisir d'Amore about?
The young peasant Nemorino is in love with Adina, but he is scared that she is out of his reach because she is a wealthy land owner. Sergeant Belcore also wants to marry Adina, but she reveals to Nemorino that Belcore should, instead of trying to pursue her, should have stayed in town.
One day the traveling chemist Dulcamara comes to their little village advertising that he has a potion that will cure anything. The shy Nemorino asks if he might have a love potion that can help hi and Dulcamara says yes.
This sparks a series of intrigues and confusions, but just as in any comic opera - the young couple will eventually live happily ever after...


L'Elisir d'Amore is sung in Italian with Met Titles in English, German, Italian and Spanish!

How do I receive my tickets?
Once you have completed your booking an e-ticket will be sent to your email adress. all you have to do is print it and bring it with you to the theatre on the day of the performance.
Informação sobre o local
Informação do show
Duração:
2 Hours, 39 Minutes
Localização

Take the subway to 66th St. Lincoln Center station

Mapa