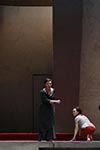 Elektra
Em Metropolitan Opera
Preço desde € 128.00
Patrice Chéreau's landmark production of Richard Strauss's masterpiece Elektra returns to the Metropolitan Opera. American star soprano Christina Goerke makes her role debut as the vindictive Elektra, and Yannick Nézet-Séguin conducts this tour de force of an opera.

Highlights:
- Experience one of the opera world's most dramatic operas
- See, and hear, world class singers in one of the worlds best opera houses
- Get the best seats available within your chosen category

What is Elektra about?
Based on ancient greek mythlogy and the story about the family of king Agamemnon and his wife Klytaimnestra, this opera has its focus on the daughter; Elektra.

Klytaimnestra together with her lover Agisthos has murdered king Agamemnon. His daughter Elektra is devastated and is now acting so strange that all servants are scared of her. She fantasizes about murdering her mother and Agisthos and afterwards dance in victory with her sister Chrysothemis and their brother Orestes who is in exile.

Klytaimnestra is tortured by nightmares and comes to Elektra in the hopes that she can offer a cure. Elektra tells her mother in wild ecstasy that she will be a blood sacrifce and the victim of the same axe that she killed Agamemnon with.

Two strangers enters the palace to tell the family about Oreste's death, but after a while Elektra recognizes one of the men to be Oreste in disguise. He is lead in to the palace and soon shouting is heard and Elektra smiles realizing that her brother has killed their mother. Oreste demands that everyone who supported their mother and her lover should be killed.

Elektra starts dancing to praise her brother's feat but falls dead on the floor.

Elektra is sung in German with Met Titles in English, German, and Spanish

How do I receive my tickets?
When you have completed your online booking and e-ticket is sent to your email adress. All you have to do is print it and bring it with you to the opera on the day of the performance.
Informação sobre o local
Informação do show
Duração:
1 Hour, 44 Minutes
Localização

Take the subway to 66th St. Lincoln Center station

Mapa