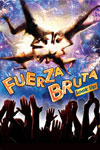 Fuerza Bruta
Em Daryl Roth Theatre
Preço de € 47.70
Don't miss the amazing spectacle that is Fuerza Bruta on Broadway when visiting New York. Buy your tickets here for FuerzaBruta on Broadway in New York!
The event FuerzaBruta where worlds collide, dreams become real and reality takes a back seat comes from the creators of the smash hit De La Guarda.
Amongst stunning effects, impressive visuals, performers run and across a vertical technicolor wall of cloth, two people try desperately to connect from opposite sides of a huge spinning and whirling sail, a man runs headlong through a wall, and most spectacular of all, performers dance in a watery world just above the audience´s head.
And all of the above takes place to the rhythm of a soundtrack that touches on all sorts from thumping club beats to chilled out new world music.
Muito Bom
3.7
3 comentários
Excelente o serviço.
Gostei do espetáculo, mas acho interessante informar que trata-se de uma peça alternativa, ou seja, foge um pouco aos padrões de musicais da Broadway, tá mais para um show, inclusive pelo fato que as pessoas tem que ficarem de pé(acho importante salientar este fato) pois caso a pessoa tenha dificuldades motoras terá problemas em ficar em pé o show inteiro(cerca de 80 minutos). Quando ao serviço de compra de ticktes com vocês a experiência foi maravilhosa, pois chegamos ao teatro e prontamente foram entregues as entradas ao apresentarmos os vouchers.
Muito bom
Muito bom, dinâmico e diferente dos outros musicais que ja tinha visto
Muito bom
Adorei, muito diferente de tudo que já tinha vista. Imperdível.
Muito Bom
3.7
3 comentários
Informação sobre o local
Informação do show
Reserva de
2014-06-25
Duração:
80 Minutes, No Intermission
Instruções

Take the subway to 14th - Union Sq. Station

Mapa